Continuous Band Sealer Vacuum Packaging Machine
Continuous Band Sealer Vacuum Packaging Machine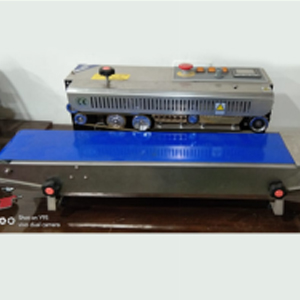 Vacuum Packing And Sealing Done Using Top Vacuum Technology
Packaging is very important for a brand today as it can make or break their image in the market. Top quality packing brings the right customers and also increases sales manifold.  Hence it is vital to use the latest packing methods, particularly when there are voluminous quantities of items that need to be packed in a single day. Check out vacuum packing machines that make use of the method of removing air inside the pack, then sealing it so that the contents inside remain fresh for months afterwards.
Try The Continuous Band Sealer Vacuum Packing Machine For Packing Of Bags, Pouches In Large Quantities
The Winner Electronics continuous band sealer is a type of vacuum packing machine that is capable of managing the packing process for hundreds of items in a single day. It is modern, robust and can be used to effectively seal items so that their contents inside are in pristine condition. The machine's stainless steel body, rugged construction enables it to be used continuously to get packs of s different sizes sealed effectively. It carries out the vacuum and sealing process quickly, quietly and efficiently, thereby removing the need for using chemicals to carry out the same process.
This vacuum packing machine is available with a variable speed controller, so that the sealing speed can be monitored and tuned according to requirements. It is possible to include nitrogen gas flushing as an optional feature in it. Machine speed is 10 to 12 meters/minutes; the sealing band has a width of 15mm and comes in a diamond design. It is a two-in-one machine that can be used in either horizontal or vertical firm.
In  factories and production centers that produce tons of product items per day, this machine will help automate their vast packing activities and enable them to be completed quickly. It is easy to use  and can be used by anyone with simple training as its operation process is easy to understand and manage. It has the capacity to seal all types of pouches and bags so that they are ready for dispersal to various markets. It has constant temperature control features and the temperature can be adjusted. This machine is ideally suitable for companies in the food, chemical and medicine sector as it will help them seal contents in packs, pouches or bags with highest efficiency so that their quality is maintained and they can be issued as if they were manufactured just now, even if they are opened months later.
With the right packing process, a brand can send products to distant markets in pristine condition. The Winner Vacuum Packaging Pvt. Ltd continuous band sealer vacuum packs  and seal products pouches so that they can satisfy customer demands for them. It can work extensively without breakdown or wear out, thus managing hundreds of packing activities per day.
Winner Electronics manufactures Continuous Band Sealers with a variable speed controller. The machine is powder coated with Green and Siemens Gray glossy finish colors. The sealing band has a Diamond design with a maximum width of 15mm. The speed of the machine is 10 to 12 meters/ minute and the pouch speed will depend upon the skill of the operator. Nitrogen gas flushing will come with an option.
This is two in one machine which can be converted into Horizontal or vertical in just 5 minutes. The machine is provided with free spare parts like Motor Driver PCB, Teflon belts 5 pairs, Rubber Pulley, Date and batch code embossing set, Drive belt one pair, Screw driver & two spanners.

Vacuum Packaging : Applications
Liquids like sauces, Ink jet printing inks. Offset inks in tins and flexible
Dry fruits Cashew Nuts, Wall nuts etc. with Co2 flushing
Rice, Cereals, Pea nuts
Khakra, Chapati
Meat, beef with Co2, N2 and O2 flushing
Ayurved (herbal) medicines
Solid Chilly, (We have developed special machine for whole chilly), Spices
Volumetric products to reduce volume to save on shipping cost like Pillows, Mattresses
Prevention from rusting, fungal infection and absorbing moisture. Like iron, copper and oxidizing metal components, Leather wears
Pharmaceutical products like API (Active Pharmaceutical Agents)
Vacuum packing products in plastic trays
Printing Inks (We have developed special machine for vacuum packing printing ink)
Packing dry fruits in Tin cans
Research laboratory that requires MAP (Modified Atmosphere Packaging) with three gas flushing
Welding rods
Brine Water Shrimp Eggs in tins
Archives to protect from fungal infection
To remove water from Archives sunk in flood water
Last but not least to pack anything that has to be isolated from atmosphere and can be packed in flexi bags and tins