Table Top Mini Vacuum Packaging Machine
Table Top Mini Vacuum Packaging Machine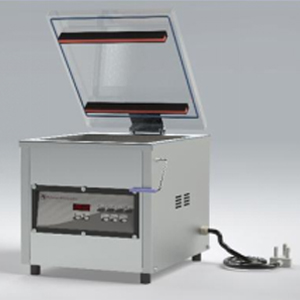 Vacuum Packaging Machine Table Top Mini
The Vacuum Packaging Machine Table Top Mini is an excellent addition to your store as it will help you complete quality packing of various products in just minutes. Just plug and play and you can get started with the packing tasks at hand. With a size of 365 Width x 375 Length x 80 mm Height, it is a compact machine, one that takes up limited space and which can be used quickly, conveniently for packing various types of items.
Enhance Brand Name With Quality Packing : Table Top Mini Vacuum Packing Machine
Vacuum packing is a must in order to extend the shelf life of a product. The table top mini vacuum packing machine is exactly what is needed in the hospitality, electronics, chemical, catering sectors and much more. In these industries the key means of delivering quality products to customers is vacuum packaging which ensures that the product's ingredients and quality is preserved and does not get spoiled when it is shipped to customer location. Look into Winner Electronics to buy an affordable vacuum packaging machine table top mini vacuum packing machine.
The machine vacuum system works efficiently to remove oxygen from inside the packing material. As a result, the quality of the item is not subject to degradation and so remains intact. Over a period of time, the item still has its freshness in place and can be used like new when it is purchased by a customer. Giving customers your product through air tight packing can make your brand impressive and also trustworthy on quality. Invest in such a machine and change the way packaging is done in your factory or industry. The packaging will meet standard quality norms thus enabling you to give the best products to customers in various markets.
Some key qualities of this machine include its easy maintenance vacuum actuator needed to lift sealing bars and Fiberglass sealing bars required for short circuit free. The machine can be customized by Winner Vacuum Packaging Pvt. Ltd vacuum packing machine according to your requirements, enabling it to be used according o the way in which it is required for packaging purposes. The high quality stainless steel used in this product ensures that it can be used extensively for long periods of time without any breakdown or repairs. This product will not consume much electricity because it needs some 2KW and can be run using a domestic connection.
As the machine is made from stainless steel it is rigid and can be used for long periods without breakdown. Its efficient structure and design enables you to smoothly vacuum pack various types of items such that they remain intact for a long period afterwards. Get this machine to make your voluminous packaging task simple, easy and also affordable. You will find its operations easy to carry out and can complete a vast amount of packing in the shortest period of time, which gives the opportunity to deliver goods to customers sooner in their markets.
Model name : Top Mini
Vacuum Chamber size : 365 Width x 375 Length x 80 mm Height. Other Height optional
Optional: Depth up to 100 mm
Over all Size : 425 W x 480 L x 350 H mm
Construction : Complete SS 304.
Lid : Transparent flat Acrylic.
Vacuum Pump : 8 cum/130 LPM
Gas : Optional
Vacuum monitoring & control : Controlled with Microprocessor & dial gauge. Vacuum sensor optional
Electrical consumption : Maximum 0.5 to 1 Kwh, can be operated on domestic connection.
Packing cycle : 1 to 2 Cycles/ minute depending upon the product to vacuum packed.
Capacity : Upto 500 kg/ shift of 8 hours
Winner special :
4.Maintenance free Vacuum actuator for lifting sealing bars
Short circuit free non metallic. Made from fabric coated sealing bars
6.We make customize machines as per customers requirement, quantity no bar
Video Link