Table Top With Map Vacuum Packaging Machine
Table Top With Map Vacuum Packaging Machine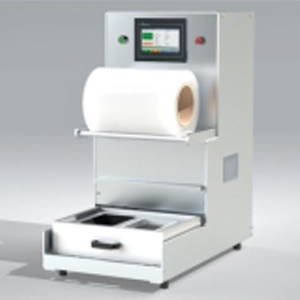 Table Top With MAP For Tray – Quality Vacuum Packing That's Rapid And Accurate
Vacuum packing is the key means of getting an item packed and sealed with the use of preservatives. This type of packing is optimal for industries dealing in food items, chemical and electronics.  It will help to pack up delicate items with the highest efficiency, thus extending their shelf life so that they are available to customers in far off locations and when opened they show the same freshness as was in place at the time of manufacture.
Table Top With MAP For Tray Sealing Vacuum Packing Machine – Helps Vacuum Pack And Seal Hundreds Of Trays In A Single Day
If you are looking for an impressive and latest machine with vacuum packing technology check out the Winner Electronics table top with map for tray vacuum packing machine. It is the machine for modified atmosphere packaging in trays and does not require compressed air for packing. It is a tray sealing machine capable of vacuum packing and sealing trays of different sizes and shapes so that they can be sent to their destination market.  With this machine you can complete vacuum packing of hundreds of trays in a single hour. It is a cost effective and accurate means of completing cumbersome packing tasks without creating any issues like spoilage or leakage. With this machine packing rate enhances manifold, but it is so designed that it does not require high maintenance.
The machine works at high speed to create a vacuum environment that has almost no oxygen so that the product is at its highest freshness and quality always. It is able to seal packs according to their heat sustaining capacity. It is the solution for quick, easy tray product packaging and can be used on fully recyclable PET Trays, conventional PP and PET Mon Foils. This is an affordable packing solution but it works to maintain the quality of product while carrying out packaging.
Winner Vacuum Packaging Pvt. Ltd vacuum packing machine comes with a stainless steel body so it is able to withstand constant and rugged usage. The tray molds that can be used here are so designed that they can be replaced quickly. The machine is simple in its operations and it is user-friendly so staff will learn how to use it fast. There is a temperature controller that can be used according to the tray material as and when required during the packing process. This machine comes with the capability to do vacuum, gas flushing and also sealing.
Vacuum packing is the key means of providing high quality products to consumers in their market as it is able to well maintain the quality of contents inside. In the case of food products, the aroma and freshness of the content remains as it was at the time of manufacture.  This machine can be customized according to client requirements in tray packing in their production unit.
Model Name : MAP for Trays
Tray Sizes : As per customer's requirement.
Dies for tray : Can be supplied with dies for different sizes of trays.
Sealing film trimming : Automatic
Control : Touch screen HMI & PLC
Recipe : 10 for different parameter settings
Construction : All SS 304 & Aluminium
Electrical consumption : Maximum 5.50 KW three phase
Packing cycle : 2 to 3 Cycles / minute
Pneumatics : All SMC Japan