Floor Model With Pneumatic Vacuum Packaging Machine
Floor Model With Pneumatic Vacuum Packaging Machine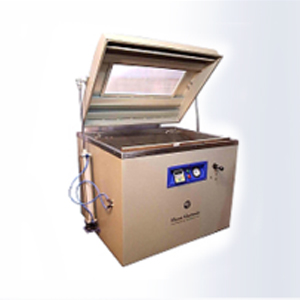 Vacuum Machine Floor Model With Pneumatic Lid Operation – Fast Operation, Quick Packaging
When it comes to product packaging nothing but the best will only suffice. Check out vacuum packaging machine floor model which can be used for packaging various types of products quickly, conveniently. The floor model with pneumatic lid operation is easy-to-use as the lid can be opened quickly to carry out packaging, thus cutting down the tie for product packing. Its simple operations enable it to be used for various types of product packing so that such items can be efficiently delivered on time to their markets.
Pack More Products Daily With The Superfast Vacuum Machine Floor Model With Pneumatic Lid Operation
This Winner Electronics vacuum packing machine is highly durable, easy-to-operate and are ideal packaging. These machines are made from premium quality of raw materials. It can carry out the sealing process and also do vacuum extraction or inert gas flushing after completing a vacuum cycle. The air in n the bag is removed through nozzle and it is then sealed using a heater or impulse system. This task is done with precision and in just minutes so a large number of products can be packed in the shortest possible time.
The vacuum packing floor model machine is ideal for large commercial establishment producing different types of perishable products in large quantities on a daily basis. It will speed up the packing process and help them manage the packing for many different goods in the most efficient manner. The machine is resistant to corrosion and is not affected by chemicals present in the product that has to be packed. The packing cycle is two to three minutes, enabling a large lot to be neatly packed fast for dispersal to the market. There are controls available through which you can control and also monitor packing process.
As the Winner Vacuum Packaging Pvt. Ltd vacuum packing machine works the packing process can be seen and it does not consume much electricity, so it will not run up the bills even if it is working for long hours. A band supplying items that are vacuum packed will gain trust in its market as it is providing high quality, fresh and usable products which will satisfy customer's demands. In case of stress that purchase vacuum packed products for resale, they can cut down on inventory investment. Various types of packing products can be vacuum sealed, so there is plenty of option on how you can pack the items that have to be sent to various markets.
Vacuum packing machine that is a floor based model will take up a certain amount of floor space but it will neatly and efficiently package your products. It can be sued reliably to pack hundreds and ht thousands of products in a single day.
Special made to ease the operation due to heavy lids (SS Domes)
Vacuum Chamber size : Any size up to 900 Width x 800 Length x Height any
Overall Size : Will change as per the chamber size
Construction : Complete SS 304
Lid : SS dome with Transparent Acrylic widow
Vacuum Pump : 20 to 63 cum/ 333 to 1066 LPM
Gas Flushing : By default. No. of nozzles maximum 6
Castor wheels : Provided with castor wheels for mobility.
Vacuum monitoring & control : Controlled with Microprocessor & dial gauge. Vacuum sensor optional.
Electrical consumption : Maximum 1to 2 Kwh, can be operated on domestic connection.
Packing cycle : 1 to 2 Cycles/ minute depending upon the product to vacuum packed.
Capacity : Upto 6000 kg/ shift of 8 hours
Winner special :
Maintenance free Vacuum actuator for lifting sealing bars
Short circuit free non metallic. Made from fabric coated sealing bars
We make customize machines as per customers requirement, quantity no bar
Video Link