Double Platten Pillow, Mattress Vacuum Packaging Machine
Double Platten Pillow, Mattress Vacuum Packaging Machine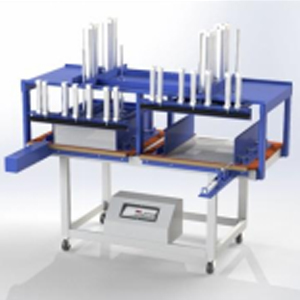 Double Pattern Pillow Packing Or Mattress Packing Machine By Compression And Creating Vacuum
Vacuum packing is a technology that is so advanced that it can manage just basically any type of packing needs. In this form of packing, the air is removed from the pack and then the item is tightly sealed. As no air is entering the pack, there is no room for oxidation and its associated deterioration process, so the item is in pristine condition, month after it is manufactured. Usually this form of packing is one in food products but in reality it can also be used for pillow, mattresses and other similar items using a matching.
Opt For Double Pattern Pillow Packing Or Mattress Packing Machine By Compression And Creating Vacuum For Easy Packing
The double pattern pillow packing or mattress vacuum packing machine is highly recommended for industries involved in the production of such items. It can be used to easily pack such large items. No need to worry if water will leak on their surface during transit to market. The vacuum packing done by the Winner Electronics machine is so tight that it ensures nothing will get spoiled on route to its destination. The machine is easy to operate and carries out packing in the shortest possible time, enabling vast amounts of packing to be completed quickly, conveniently. It can also eliminate the need for vast storage containers to keep mattresses or pillows in quality condition.
The Winner Vacuum Packaging Pvt. Ltd machine is easy-to-use and it can be operated through a few controls. It is sturdy, durable and long-lasting, enabling a large number of items to be packed in just an hour. It is not going to get overheated nor will it show breakdown if hundreds of items have to be packed in a single day. It will also not increase the electricity bill even if it is used extensively for hours together. Check out the latest model, so that you can buy a vacuum machine that has the latest design and technology. It is a machine that can save time enormously in packing and also reduces packing costs.
Mattresses and pillows are items that are prone to getting affected by dust, insects and other contaminants, even though small exposure. However, there is a considerable time gap from the time of manufacture till the point they reach consumer markets.  Using the double pattern pillow packing or mattress vacuum packing machine enables you to avoid making use of chemicals as a means of preserving the product for over a period of time. It also prevents the need to hire a large number of people for the packing process. The machine simplifies packing and it enables more items to be packed in a single hour, which is also cost effective.
Model Name : Poly bag packing, Pillow Packing / Mattress Vacuum Packaging Machine/
Platen Size : 600 Width x 700 Length and any .
Overall Size : 700 x 800 x 1500 .
Construction : Complete MS and seven tank process powder coating. Pneumatics SMC Japan.
Electrical Consumption : Maximum 1.00 can be connected to domestic 15amp domestic supply
Packing Cycle : 2 to 3 Cycles/ minute.
Winner special :
Maintenance free Vacuum actuator for lifting sealing bars
Short circuit free non metallic. Made from fabric coated sealing bars
We make customize machines as per customers requirement, quantity no bar